Alisha Patel, DMD
Dr. Alisha Patel is a Kentucky native, who received her doctorate in medical dentistry from the University of Kentucky College of Dentistry. Upon graduating, she completed her Advanced Education in General Dentistry at the University of California in San Francisco, where she was able to gain more knowledge and experience from well seasoned providers before practicing as an associate general dentist. Once she completed the program, she decided to stay in the San Francisco Bay Area for several years, where she continued to develop her craft in dentistry and provide care in modern offices with the most up-to-date and state-of-the-art equipment and technology.
Dr. Patel is well known for her fun and energetic personality, which has helped ease her patients' dental anxiety. She hopes to not only be a great dentist and provide quality care but be your personal healthcare cheerleader. She wants to motivate her patients, whether it be to be more proactive, more preventive, or be more educated about their health. She believes by working as a team, patients can find success in achieving optimum oral health. Her drive to help stems from seeing her patients find success and satisfaction in the work she has provided. The connection she develops with her patients and the ability to make their day better makes her excited to report to work everyday. Dr. Patel believes in providing care with honesty, integrity, and compassion.
While away from her patients, Dr. Patel enjoys working out, attending sporting events or concerts, and finding ways to exercise her appreciation for history, art, and the theatre. As a self-proclaimed 'foodie' she also enjoys finding new restaurants and breweries, distilleries, or wineries. Very seldom will she miss an opportunity to cheer on her alma mater, the Kentucky Wildcats and her ongoing NBA love for the Golden State Warriors and Sacramento Kings!
Leaving the San Francisco Bay Area was a very difficult decision for Dr. Patel but she is very excited to bring her expertise and knowledge in dentistry to serve the communities of Lexington. As Happy Chandler, Sr. once said, "I never met a Kentuckian who wasn't either thinking about going home or actually going home." Dr. Patel couldn't agree more and looks forward to replanting her old roots, being closer to friends and family, and establishing many new friendships and relationships.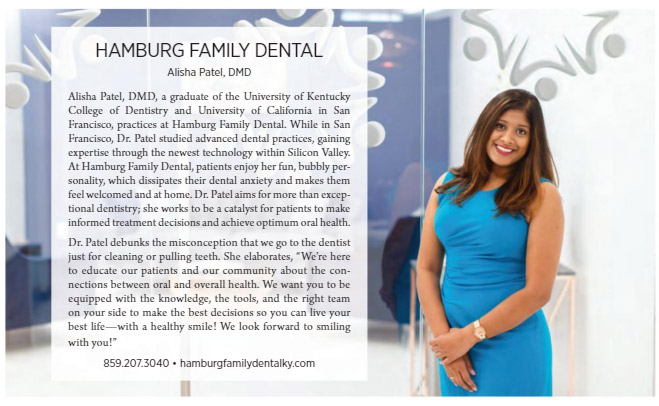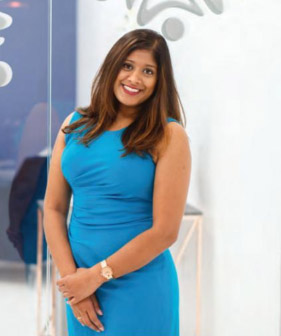 Alisha Patel, DMD, a graduate of the University of Kentucky College of Dentistry and University of California in San Francisco, practices at Hamburg Family Dental. While in San Francisco, Dr. Patel studied advanced dental practices, gaining expertise through the newest technology within Silicon Valley. At Hamburg Family Dental, patients enjoy her fun, bubbly personality, which dissipates their dental anxiety and makes them feel welcomed and at home. Dr. Patel aims for more than exceptional dentistry; she works to be the a catalyst for patients to make informed treatment decisions and achieve optimum oral health.
Dr. Patel debunks the misconception that we go to the dentist just for cleaning or pulling teeth. She elaborates, "We're here to educate our patients and our community about the connections between oral and overall health. We want you to be equipped with knowledge, the tools, and the right team on your side to make the best decisions so you can live your best life—with a healthy smile! We look forward to smiling with you!"